Since opening in July 2011, Bracewell's has proved popular with locals as well as visitors. The varied menu and cosy size appeals to all generations, couples, single people, families and larger groups.
The Chef, Daniel Bracewell, draws on his experience from working in Italian, French, Japanese and other restaurants, to create an international range of dishes. He enjoys tantalising the taste buds of customers with a variety of flavours.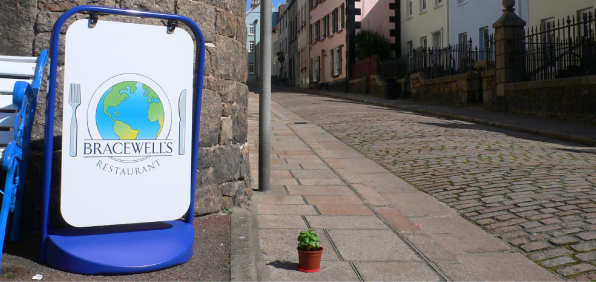 In 2013 each week for 26 weeks, Chef treated customers to an A to Z of surprises, for examples, B was Banana Crème Brulee with Lemon Compote, H was Horseradish Ice Cream with Rocket and Parmesan and many people thought Z would be impossible, but Chef treated customers to Zucchini Trifolati.
For the Jersey Food Festival (www.jersey.com) a variety of dishes utilizing local seaweeds could be found on the menu at Bracewell's.
When customers want to find out more about local sea life, we suggest contacting www.jerseywalkadventures.co.uk
We look forward to welcoming you to Bracewell's soon.
Booking recommended. Please call 01534 747014.